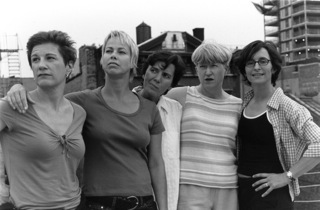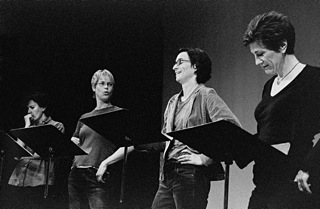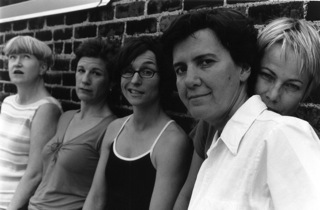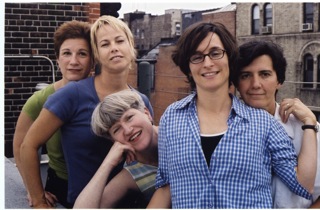 The Five Lesbian Brothers create provocative lesbian theater for the masses through the fine feminist art of collaboration.
They are Maureen Angelos, Babs Davy, Dominique Dibbell, Peg Healey and Lisa Kron. The Brothers came together as a theater company in 1989 after performing together in various other combinations at the Obie award winning WOW Cafe Theatre.
Their repertoire includes four full length plays, Voyage to Lesbos, Brave Smiles, The Secretaries and Brides of the Moon, as well as numerous event-specific showstopping acts. The Brother's plays have been produced Off-Broadway and Off-Off Broadway and beyond by New York Theatre Workshop, The Joseph Papp Public Theatre, the WOW Cafe Theatre, Downtown Art Company, Performance Space 122, Dixon Place, La Mama, the Kitchen and the Whitney Museum of American Art at Phillip Morris. They have toured to London, Los Angeles, San Francisco, San Diego, Houston, Columbus, Seattle, Philadelphia, Boston and the deep woods of Michigan. Their plays have also been produced by other companies throughout the United States and, believe it or not, in Zagreb, Croatia.
The Brothers are currently at work on a new play, Oedipus at Palm Springs which will premiere at the New York Theater Workshop, summer 2005 and will tour to Theater Offensive in Boston and Out North in Anchorage, Alaska, dates to be announced.
In addition to their theatrical work, the Brothers have also written a book of lesbian humor for Simon and Schuster and three short films for HBO. They were selected, along with Kiki and Herb and Tammy Faye Starlight, to host episodes of "Late Night Out" on the Showtime Network. Their work is taught in theater and queer/feminist studies courses in universities throughout the U.S.
The Brothers are the recipients of a Village Voice Obie Award, a New York Dance and Performance Award ("Bessie"), and a New York Press Award as Best Performance Group.
An anthology of their plays entitled "Five Lesbian Brothers/Four Plays" was published in 2000 by Theatre Communications Group.
"Over our 13-year creative relationship, we have established a synergistic technique in which we build upon each others imaginations as well as synthesizing our relationships with each other and our everyday lives into dramatic material. Our work is drawn from many sources, personal and social and, ultimately it always tackles big themes such as internalized sexism and homophobia, the corrupting influence of corporate culture, sexual obsession... We bring our trademark sense of humor to whatever subject we examine. We are equitable in our parody, skewering homosexuals and feminism with the same vigor we apply to mainstream culture. While not overtly political, our work becomes political before an audience because it is made based our perspective and the assumptions we hold as lesbians and women who are outside the mainstream culture, and even (sad to say) outside the mainstream theater culture. It is further made so by the nature of its collaborative creation which has its roots in feminist collective ideals although the result are most often strikingly "politically incorrect".