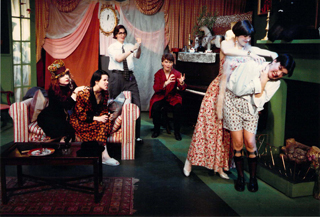 The legendary WOW Cafe Theater began as an international women's theatre festival in October of 1980 which morphed into a women's theater collective that is still alive and kicking in New York's East Village. The WOW Cafe, in the 1980's was a hotbed of lesbian theater and the incubator of seminal artists such as Peggy Shaw, Lois Weaver, Deb Margolin, Holly Hughes and Carmelita Tropicana. WOW was Lisa's home-base throughout the first decade of her career and birthplace of The Five Lesbian Brothers.
Two books on the heyday of the WOW Cafe
Lady Dicks and Lesbian Brothers, Staging the Unimaginable at the WOW Café Theatre, by Kate Davy
And coming soon…
Memories of the Revolution: First Ten Years of the WOW Café
coedited by Carmelita Tropicana and Holly Hughes, from University of Michigan Press
video snippets from an early WOW show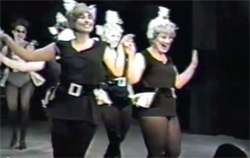 The lavish (and by lavish I mean, please note our skirts are made out of newspaper) opening number from Alice Forrester's epic Fear of Laughing on the Lower East Side (1986) Dancers include (but are not limited to): Shara Antoni, Lynn Hayes, Lisa Kron, Deb Miller Jeep Ries, Peggy Shaw, Lois Weaver, Susan Young, Quinn, and Alice Forrester as Jackie Gleason. Choreography: Suzanne Tyler. Lights: Joni Wong, Sound: Suzanne Tyler, Curtain: Benjamin Tyler (age 5).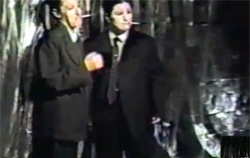 LK with Deb Margolin as "Robert Orben" in "Fear of Laughing on the Lower Eastside", written and directed by Alice Forrester, 1986
A quintessential WOW play
PARADYKES LOST: lesbo-tastic and goof-tacular in the extreme.
The script is here.

Paradykes Lost by Lisa Kron is licensed under a Creative Commons Attribution-NonCommercial-ShareAlike 3.0 Unported License