101 HUMILIATING STORIES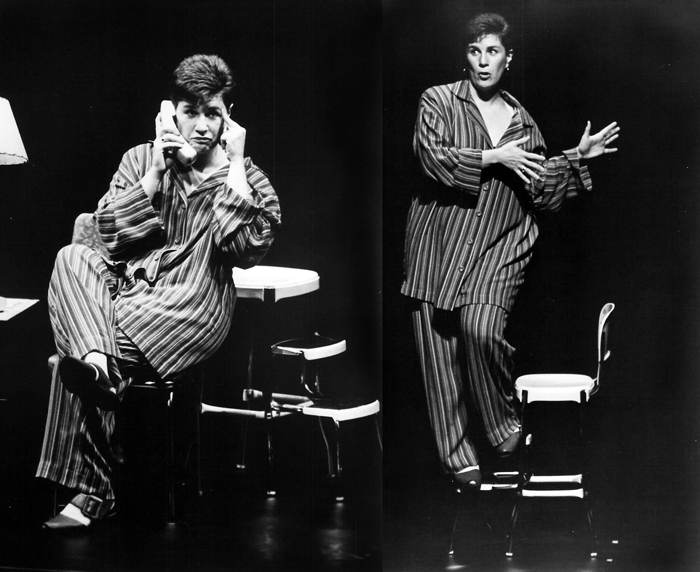 In 101 Humiliating Stories, Lisa Kron dives deep into the universal experience of humiliation. With her trademark charm and intimate delivery, Kron shares a series of humiliations past, present, and future, including exquisitely detailed anecdotes like "Geeky Celebrity Encounters" and "How I Spent All the Petty Cash From My Office on Makeup." An invitation to perform at her high school reunion in Lansing, Michigan, triggers another series of anxiety-filled fantasies. How will she, a lesbian East Village performance artist, cope with her Midwestern classmates? 101 Humiliating Stories is evocative, moving, and, overall hilarious.
EXCERPT
(Lights fade up revealing the figure of a woman running in slow motion behind the scrim. She in on the platform, so appears to be floating. As she runs, she speaks. The first story is delivered in a slightly overblown, full-voiced, declamatory style.
(The year is 1975. A young unnamed midwestern girl (of Jewish descent) runs back and forth across the playing field behind her junior high school. It is gym class. It is the track segment. The girl is wearing a green and white striped polyester gym suit. Green is not her color. It is not anyone's color, but it is particularly disturding in this girl. She has long hair - long 1970s junior high hair with a center part (known in the 1990s as "the dreaded center part").)
PURCHASE SCRIPT
LICENSING INFORMATION
Contact Patrick Herold at ICM.